Assembly, Senate unveil budget proposals
Significant changes to governor's draft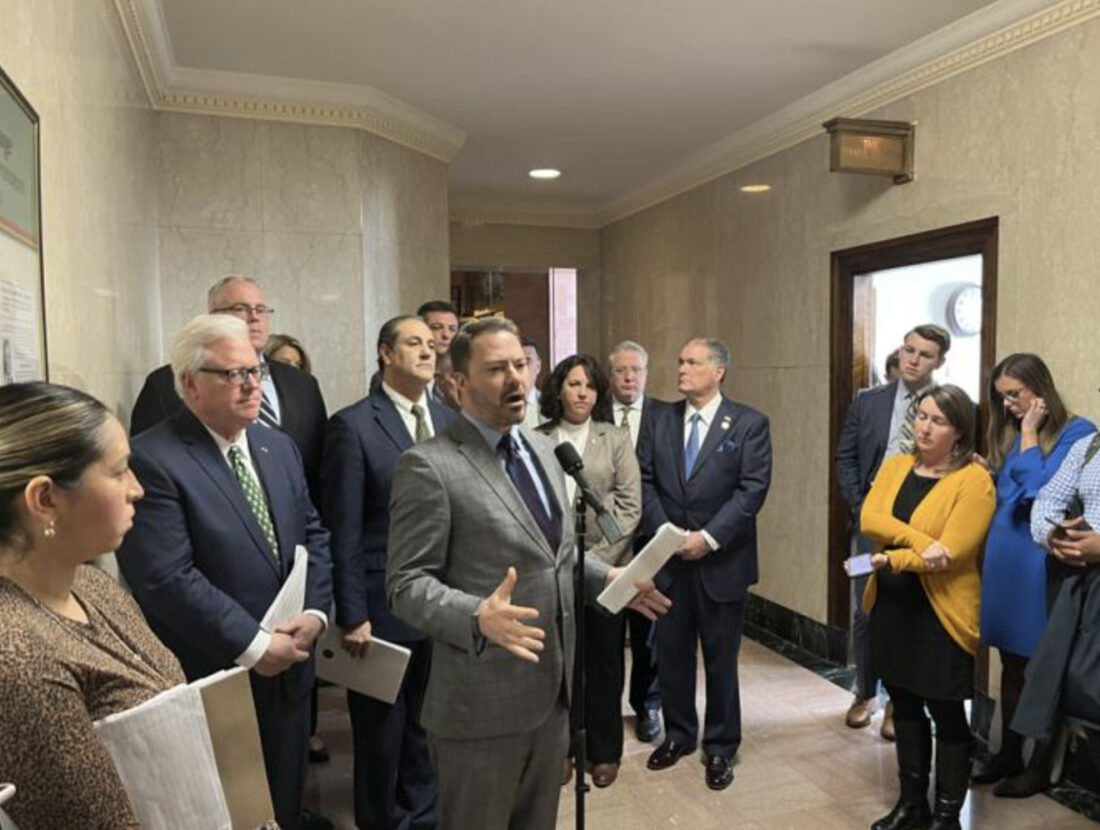 ALBANY — State legislators unveiled their latest budget proposals Tuesday, setting the scene for the next round of discussions as officials craft the 2024 state spending plan.
Despite a snowy day in Albany that closed the Capitol Tuesday, work continued through the day to publish the Assembly and Senate's separate spending proposals, which are the legislature's counter to Gov. Kathleen Hochul's executive budget proposal that came out in early February.
Both the Senate and Assembly budgets call for more spending than the governor's executive budget, which asked for a $227 billion spending package. The Assembly version is $6 billion higher, and the Senate version is more than $9 billion higher.
Each chamber's budget is slightly different, including more money in some places and less in others, but they share some common lines. The upcoming discussions will seek to unite the governor's plan with the two legislative plans that can be passed into law.
Lawmakers in both chambers rejected Hochul's proposal to intercept $624 million in federal Medicaid funding that has historically gone to the counties. That issue has been top of mind for many local officials, who expressed concern that their county Medicaid budgets could grow by hundreds of thousands, if not millions, of dollars and require a property tax increase to cover the extra costs.
Money has not been provided by either chamber for prison redevelopment, despite local advocacy and some action taken by the executive branch this year to redevelop two now-closed prisons.
Senate Majority Leader and President Pro-Tempore Andrea Stewart-Cousins, in a news conference in the Capitol on Wednesday, said she doesn't intend to address prison redevelopment in this year's budget but said there may be opportunities in the future.
"It was not in our one-house bill, but that doesn't mean it can never be discussed," she said. "Just not at this moment."
Sen. Mark Walczyk, R-Watertown, whose 49th District includes a number of closed prisons, said he is very disappointed that there's no plans for prison redevelopment in the upcoming fiscal year, but blames Hochul first for not including the proposal in her executive budget.
"I wouldn't expect Leader Stewart-Cousins to carry the governor's water on that. I'm incredibly disappointed by what the governor has done here," he said.
Both the Senate and Assembly also removed the changes the governor proposed in her budget for the state's bail reforms, aiming to give judges more options when setting bail. Stewart-Cousins said, as Albany Democrats have repeatedly, that she does not believe the argument that the state's bail reforms lead to an increase in violent crime. She said violent criminals have always been bail-eligible, and other states who did not reform their bail systems experienced similar or worse increases in violent crime around 2020.
Both budgets also reject a proposal pushed by counties to make their sales tax collections permanent. Counties now have to seek state approval every two years to maintain their sales tax collections. The governor's executive budget called for those collections to be made permanent, but that was removed in the legislature's proposals.
The Senate and Assembly budgets also call for nearly $200 million in grants to be established for local public defense programs, which provide legal representation to those who can't afford a private attorney. Counties have been required by a court order to increase public defense staff and bring the offices into parity with local district attorney offices.
The state long-term care ombudsman's office, which oversees a network of professionals and volunteers who advocate for the rights of patients living in long-term medical care facilities, has been given a $12.5 million boost in the Assembly bill. The Senate bill does not include a similar boost. The office has openly struggled with its inability to monitor all the long-term care homes in New York, and advocates had requested a $15 million budget for the organization at a public hearing earlier this month.
The Assembly bill does not include any language that would increase funding for the Consolidated Local Roads and Highway Improvement Program, or CHIPS, but the Senate budget bill includes a $200 million boost to the program. Other state highway and bridge maintenance programs were also given tens of millions more in the Senate budget.
Local highway supervisors visited the Capitol last week, holding a rally to demand a $270 million increase to the program's funding base to offset the effects of inflation.
Walczyk said he was happy to see a push for upstate communities to get more transportation funding and said Senate Republicans continue to advocate for parity between downstate transportation funding and upstate.
"We're not seeing that in this one-house budget, but we are seeing what we asked for, and that's a bright spot," he said.
Both bills have been drafted mainly by Democratic leaders in Albany, as they hold all three levers of power in the Capitol. Senate Republicans blasted the one-house budgets on Wednesday, criticizing the $233 to $236 billion spending plans.
"Our state budget, as I've said numerous times, is already larger than Florida and Texas combined," said Senate Minority Leader Robert Ortt II. "They have more people. Florida will soon have more New Yorkers."
Walczyk was similarly critical of the spending increase in the Senate budget proposal. He said the governor's original proposal was already too high, and the increases being sought by the legislature are irresponsible in his eyes.
"The biggest message to take away is that when the governor has already increased spending well above the means of New Yorkers, and then the Senate and Assembly come over and top that, that's the wrong direction for this budget conversation to go," he said.
Ortt criticized the Senate bill for rejecting the bail reform adjustments proposed by Hochul, especially.
"I thought the governor's bail changes, while not nearly enough of what was needed, because there was more, she stopped short of that, maybe she anticipated a very tough negotiation, but as we've seen they aren't even willing to go where she wants to go," he said.
The budgets introduced this week are scheduled for committee votes in their respective houses on Thursday, but negotiations between the Assembly, Senate and governor will continue over the next few weeks as they try to negotiate a single budget that can be agreed upon by all three. The state Constitution requires the budget be completed by April 1, but negotiations can sometimes run late and hold off passage of the final bill into April.